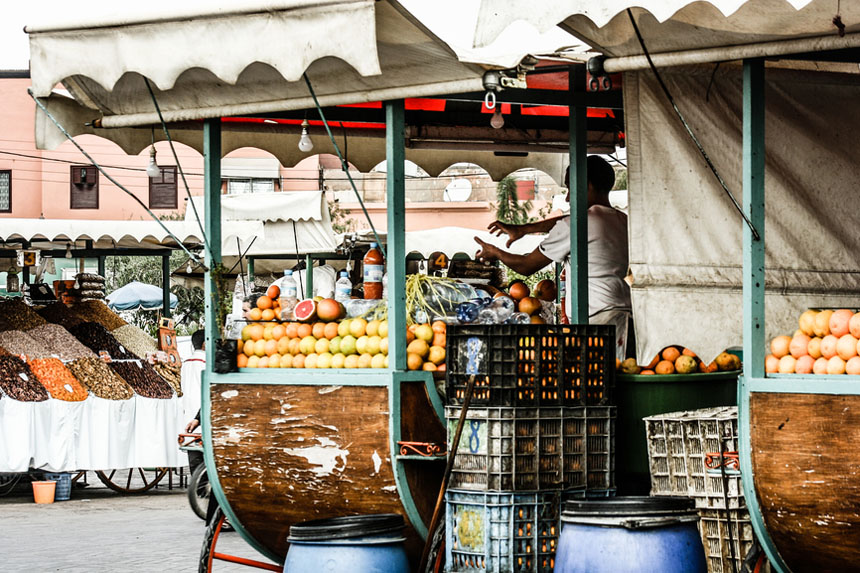 Why not ditch your holiday to Barbados and head somewhere new for your next vacation, somewhere a bit different. Morocco is that perfect middle ground between being tourist friendly, and being authentic and unspoilt by the heavy footsteps of travelers. It remains true to its culture, all the while adapting to the needs of visitors. Here are 8 reasons why Morocco is well worth a visit:
A large chunk of Morocco is desert; the Sahara Desert to be more specific. The desert is ruthlessly dry, hot, and beautiful, and Morocco is one place in the world where you can easily access it. You can take a guided camel trek into the desert, and stay overnight if you want to experience the peaceful feeling of an unbroken darkness. Exploring the desert will give you a real taste of something new, and a taste of sand, dried to the back of your throat. Well worth it.
The town of Merzouga is only a pebble throw away from the Erg Chebbi sand dunes, some of the most impressive that the country has to offer.
From the all out fusion of cultures in Marrakesh, to the medieval Arab city of Fes, and the beautiful costal city of Tangier, Morocco features many cities which all have their own vibe. It is easy to get between them by train, and each one gives you a taste of something unique.
The High Atlas Mountains are an incredible range that offer a completely different Morocco, really highlighting the diversity of the country. It is possible to take guided tours up even the highest of the peaks, and they are not small! The biggest is Jebel Toubkal, and is North Africa's highest peak at 13,667ft. Are you up for the challenge?
The spicy delights of Arab cooking meet the influence of French cuisine making for a world of fresh culinary delights.
The Moroccan people are some of the most hospitable in the world. Do not be surprised if you are taken into someone's home to drink green tea, have a meal, and meet their family. Nothing beats friendly locals.
The architecture in Morocco is a mish-mash of Arabian, Islamic, and European influence that somehow holds itself together in an unforgettable charm, and a sightly splendor. Tiles and mosaics, elaborate gardens, palaces and mosques are just some of the sites to be beheld. Check out the Hassan II Mosque, one of the largest in the world, and more than a little impressive.
This is a thought that should bring you to a happy place. Morocco, on top of every reason expressed so far, has some amazing beaches, warm ocean water to swim in, and has sunshine in many areas nearly all year round. Winter is not a bad time to go, with temperatures still reaching into the 20s in many places.
One of the main reasons to explore any country is to catch a glimpse of their culture, and Morocco is full of it. It has Jewish and Muslim religious influence, and religious practice is still very alive in the country. It has French and other European influence, African and Arabian. It is a cultural wet dream.